With 3200 km of coastline, Morocco is a kitesurfing and surfing paradise and a fantastic playground starting only 14km away from the Southern tip of Europe.
While many kitesurfers worldwide have heard of – or been to – Dakhla, the country's southernmost city which has become a kiteboarding mecca in recent years, Morocco has many more fantastic kitesurf spots only locals and serious kite trippers know about.
In this article, I'll reveal some of the best kitesurfing spots Morocco has, a lot of which kite magazines never mention. I have personally ridden many of these spots, while for others, I've collected and synthesized some of my kitesurfing friends' experiences.
The spots are listed geographically from North to South. Be sure to check out this list before your next kite trip to Morocco!
Kitesurfing spot: Tangier City
The Northern part of Morocco gets lots of wind in the warm month due to the Strait of Gibraltar and the Rif Mountains. There are kitesurfing spots both in the Mediterranea and Atlantic parts of the region.

Source: "Tangier's Coast" (CC BY-SA 2.0) by Benson Kua
Tangier's main urban beach, right in the middle of the city's waterfront, east of the port and Marina. Even though there are no explicit signs restricting kiteboarding in the summer, the spot should be avoided in high season as it gets swamped with beach-goers and swimmers.
Aside from the hot days, however, you can catch some really nice freeride kiteboarding sessions when the predominant Eastern wind is blowing – the same Levante wind as Tarifa, which is only a couple of miles further North from this spot.
This can be a good place to kitesurf if you've just arrived in Morocco – or are on your way out – through Tangier and don't have a drive. If you're driving, however, you should be able to find parking quite easily off-season, just be sure not to leave anything apparent or valuable in the car.
Kitesurfing spot: Cap Spartel / Akachar

Source: flickr
Cap Spartel is located about 10 miles West of Tangier's city center and is Morocco's Westernmost point overlooking the Mediterranean – close to where sea turns into the Atlantic Ocean.
Aside from kitesurfing, Cap Spartel has beautiful nature and is worth the scenic visit, driving from Tangier through the green mountains and down the road with stunning views overlooking the sea.
The kitesurfing spot is located right at the bottom of the cape (South). The long, sandy beach is called Achakar. It has a parking area, but you should expect quite a bit of walking to reach the sand.
The beach is facing almost full West, so kitesurfing is safe by North, Northwest and Western winds (i.e. Tarifa's Poniente – completely onshore there). In the fall and the winter, the spot turns into a nice wave spot due to the North Atlantic swells.
Winds can get strong, up to 25kn. The spot doesn't get overly crowded on weekends. It's possible to find accommodation in small hotels, B&Bs, and private rentals around the Cap Spartel area.
Kitesurfing spot: Tahaddart

Source: Kite Forum
20 miles South of Tangier city and 8 miles North of Asilah, the mouth of the Tahhaddart river (Oued Tahaddart) offers a nice flatwater lagoon for freeride and freestyle kiteboarding. Kite schools from Tarifa often organize trips to this lagoon for courses or freeriding day trips.
If you wish, you can also ride or walk to the outside of the sandbank and reach the wide sandy beach and the open ocean for surfing waves.
The spot is most likely to get winds (thermal, front) in spring and summer months – there are much fewer windy days in the winter. The lagoon can be ridden in pretty much any wind direction, but avoid going out to the wave spot with Eastern offshore winds.
Keep in mind there's no safety infrastructure anywhere nearby, particularly outside of summer months, so you can only rely on yourself and your buddies in case of trouble.
Kitesurfing spot: Moulay Bousselham

Source: Kite Forum
About midway between Tangier and Rabat, Moulay Bousselham is a small village that mainly comes to life in the summer as a well-known beach vacation place.
The village is situated by the beach at the river mouth of the Merja Zerga natural park, Morocco's largest wetland area, famous for birdwatching. There is both a large and shallow flatwater lagoon and a wave spot on the beach side.
You get to ride among the birds in a preserved natural environment. Most of the time, there will be no kiteboarders anywhere in sight – just a few occasional surfers on the ocean side of the estuary.
Kitesurfing spot: Oued Merzeg (Dar Bouazza)
Due to the orientation of the coast and the Iberical peninsula above, the area from Rabat to Casablanca more rarely gets strong winds. Things start to pick up a bit South of Casablanca.
A 30-minute drive South of the city, the old fisherman's village of Dar Bouazza has become an over-developed suburb of Casablanca. It is first and foremost a surf zone but has regular light thermal winds, and once in a while stronger winds that attract kitesurfers from the city.
The beaches of Oued Merzeg and Dar Kouch are the primary spots where the metropolitan kitesurfing crowd meets. In the spring, there are occasional steady Northeast/Northwest wind sessions riding a 9m2 to 12m2 kite.
In the winter, the place sometimes catches strong, gusty and stormy fronts from the South. Combined with frequent big swells, Oued Merzeg once in a while offers great wave sessions in cross-shore wind, ridable with a 7-8m2 kite and surfboard.
Oued Merzeg is a large sandy beach at the mouth of a (not-so-clean) river. Plenty of space for safe launching and landing, but beware of the rocks in the water, particularly at low tide. Since it's bound by a peer at its Southern end, it's best in South-ish winds.
Dar Kouch, on the other hand, is a mile or two further South, at the northern tip of the bay. It has a rocky point on its northern side, so it's best ridden with North winds. It has a tiny launch area at high tide and a rocky bottom (beware of the sea urchins!) Not cleanest, yet most of the city kitesurfers meet here – expect 10-15 kites on windy weekends.
Kitesurfing spot: Azemmour – Oum Rabia
Further South from Casablanca is the city of Azemmour, with its impressive traditional old town overlooking the Oum Rabia river. The river mouth offers another decent and little-known flatwater + wave spot that starts working very nicely in stronger Northern winds.
The river banks are primarily stone covered with an impressive shipwreck sitting on the southern bank. The beach, named Lalla Aicha El Bahria, is mostly empty except for one construction built on the sand.
If you have a 4×4 you can easily drive in the trails and onto the stones all the way up to the river mouth – some regular cars even manage to pull it off. The beach itself extends 15km all the way to El Jadida in a relatively virgin setting, making for an awesome potential downwinder with the right wind and rescue setup.
Kitesurfing spot: El Jadida
Starting from El Jadida going South, the coast gets a lot more wind than the above part of the country.

Source: "El Jadida" (CC BY-SA 2.0) by Lietmotiv
El Jadida, the old city of Mazagan, famous for its massive Portuguese walls and ancient water tank, is a 60+ mile drive South of Casablanca via the highway. Its main urban beach is well-known among kitesurfers from Casablanca to Safi.
The beach faces Northeast so it starts kicking off with strong North or Northeast wind, often with full onshore conditions which can make getting out challenging. One kitesurfer killed himself a few years ago by getting thrown against the Ibis hotel wall following a failed launch.
The wide sandy beach (no rocks) allows for easy launching and landing. However, being smack in the middle of the city, the beach often gets crowded with bystanders and soccer players, particularly on weekends – summer holiday months are best avoided here even though there are no official restrictions.
The spot gets significant waves in 2-3m winter swells, though the onshore wind usually makes the water very choppy. With South winds, the waves start to become perfect for surfing but going out in offshore conditions can be risky as you can hardly count on anyone to rescue you.
When the urban beach gets too crowded, kitesurfers sometimes choose to ride Haouzia, another beach with a big shipwreck at the northern entrance of the city. Just follow the coast for a few minutes after exiting the city towards Casablanca. Houzia gets bigger waves and has less of an onshore orientation than the city beach.
Kitesurf spot: Oualidia
50 miles South of El Jadida lies the beautiful Oualidia lagoon, surrounded by high cliffs on which the town sits. The lagoon is made of several sandbars that protect it from the outside waves. It makes a fantastic shallow water kitesurfing spot in strong North wind conditions.

Source: "Oualidia" (CC BY-SA 2.0) by Gerard Justo
At low tide, the sandbars get uncovered and areas of shallow flatwater form, great for freeriders to have fun. Just beware of the strong current toward the outside pass at lowering tide. At high tide with swells, small waves form inside the pass, great for honing directional board and wave riding skills.
Overall, the Oualidia lagoon is one of the nicest places to kitesurf at in Morocco. Although the upper town is nothing special, the lagoon is surrounded with nice houses, condos, small hotels and B&Bs, and good seafood restaurants. The atmosphere is quiet and relaxing in the winter.
Sidi Moussa is another pristine lagoon 35 miles North of Oualidia. It's an awesome kitesurfing spot very sensitive to North winds very well. Like Oualidia, there is both a flat water lagoon to freeride/freestyle (ridable at higher tide) and a nice-breaking wave spot at the river mouth.
Sidi Moussa is also good for beginner kitesurfers due to the sandbanks – although rocks tend to show up at lower tide. Be aware the place is quite secluded with pretty much no-one there outside of summer months, aside from a few fishermen.
You'll need a 4×4, and even so, you may have a hard time accessing the outer dunes in the winter due to rain, marshes, moving dunes, and high tide.
Kitesurfing spot: Moulay Bouzerktoune

Source: Kite Forum
Moulay Bouzertoune (aka "Moulay") is quite famous for windsurfing worldwide, home of Moroccan ex-world champ Boujemaa. It's a small village located on a rocky point with very strong winds and potentially big rideable waves for more advanced riders.
Since Moulay is more of a windsurfer hangout, kitesurfers are not always welcome, especially in strong winds and good waves. The rocks and limited sand area makes it hard to launch and land a kite. The winds get strong and gusty, often better suited for windsurfing than kitesurfing.
That said, we've had some really great sessions at Moulay in 20+ knot winds and 1-1.5m meter waves. If there are too many windsurfers you can go further downwind so as to avoid getting in their way and still catch some nice waves.

Source: moulay-bouzertoun.com
Right up North from the Moulay Bouzerktoun point is a stunning, incredibly vast virgin beach covered with sand dunes which make you feel like you're in the middle of the desert. We've had some amazing wave sessions there with no-one else anywhere in sight.
Kitesurfing spot: Essaouira
The bay of Essaouira is Morocco's most famous kitesurfing spot (along with Dakhla). The city of Essaouira gets consistent strong winds from April through September – sort of the Tarifa of Morocco.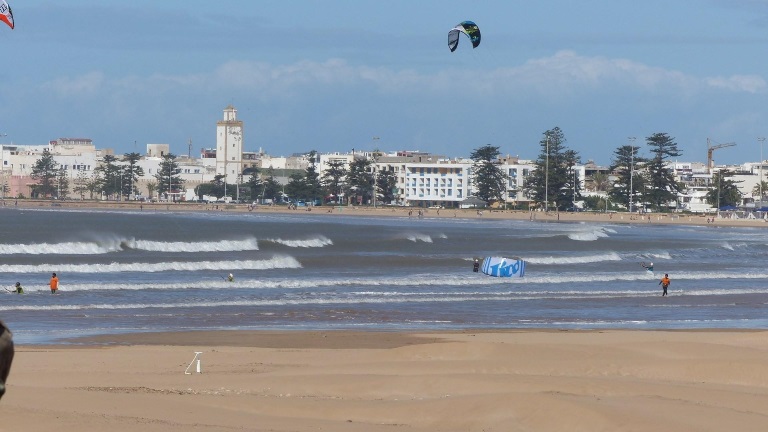 Check out some of Essaouira's most popular kite camps for kite lessons and/or renting kite equipment during your next kite trip.
The city's huge urban beach is where most of the kiting action takes place as most of the kite schools are located around it. The beach is very wide with big dunes, camels, horses and ATVs running back and forth, and helmeted students dragging their kite and board to and from the water.
The wind is mainly North/Northwest making for safe onshore or side-onshore conditions. The closer you are to the city, the gustier the wind, so seasoned kiteboarders tend to ride further downwind from the city, even all the way to the next bay ("kite beach").
Like Tarifa, Essaouira may be called "kite city", at least up until October. At the South end of the town, a concentration of well-known kite schools.
Kitesurfing spot: Sidi Kaouki
While the Essaouira bay gets small waves when the swell starts kicking in, Sidi Kaouki, a tiny town 14 miles South, is the place to go for true wave surfing. The huge sandy beach, amazingly wide and a few miles long, is continuously beaten by winds even stronger than the bay – 30-40 knots is normal in summer months.
If you're tempted by a stay in Sidi Kaouki, my favorite place for high wind (from April to September), good waves, and a friendly, laid back, and uncrowded atmosphere, check out this list of kite camps/schools.
The beach is fully exposed to swells so hardcore kitesurfers come here from intense wave sessions on surfboards and small kites. At the northern end of the beach are the Sidi Kaouki Marabout (shrine), a large parking area, and a few small cafes and restaurants.
Depending on wind and swell, you can ride the Oued (river mouth) wave spot at the Southern end of the beach – which often turns into a good surf spot when the wind drops. There are a couple of more advanced waves spots North of Sidi Kaouki, though these are mostly on rocks.
Kitesurfing spot: Tamri
Though there are several great beaches South of Kaouki that are great for kitesurfing given the right wind and swell conditions, most kitesurfers prefer the social hustle and bustle of the Essaouira bay or Sidi Kaouki. As a result, most of these awesome beaches are rarely ridden.
About 80 miles South from Kaouki is Cape Tamri, a sandy beach lying at the bottom of high cliffs – you can see from the road when driving. At this point the coast changes orientation from Northwest facing to Southwest. You can easily park roadside and walk down the cliff to the beach.
Tamri is at a river mouth and forms a long beach break with consistent side-onshore wind. With strong winds, the Southern part of the beach has relatively choppy water with strong side currents. Riding a bit further up North, though, you can catch some clean right-handers.
Although Tamri is well-known among the Agadir and international surf crowd in the winter months, and local beachgoers in July and August, it remains a relatively untouched gem among kitesurfers the rest of the year.
Kitesurfing spot: Taghazout & Agadir
Another 15 miles South is Taghazout, a world-renowned surf zone famous for its waves and offshore winds in the winter. In the off-surf windy season, though, you may score some really good kitesurf sessions around Banana Village and Taghazout Bay.
The bay of Agadir offers another wide, 4-mile sandy beach to kitesurfers. The wind is nowhere as strong and reliable as in Essaouira, typically lighter Northwest winds in the 7-20 knot range. The thermal wind is quite gusty and tends to pick up a bit more in the afternoon due to heat.
The water is mostly flat or with small waves when swells come in. Being the city's urban beach, it gets crowded in the summer and should be avoided during these months even though there are no official restrictions.
Riad Imourane, one of the few surf camps around Taghazout also offering kitesurfing in addition to surfing. Riad Imourane is located in Tamraght, a nice village next to Taghazout and close to touristy Agadir.
Swell Surf Morocco has a highly-rated (56 reviews!) 8-day camp combining surf, kitesurf and yoga, hosted in a traditional Moroccan villa in Agadir.

Source: "Maroko" (CC BY-SA 2.0) by x-oph
Kitesurfing spot: Dakhla
On the way to Dakhla, there are endless beaches and kitesurf spots, though with hardly any tourist or kitesurfing infrastructure. A good example is Laayoune's Foum El Oued beach which has fantastic wave sessions for adventurer kitesurfers.
Dakhla, on the other hand, has become the most famous kitesurfing spot in Morocco besides Essaouira. It's located on the coast of the Sahara desert close to Mauritania. Dakhla over 800 miles from Essaouira, 1000 miles from Casablanca, and 1200 miles from Tangier.
What has made Dakhla's reputation is first and foremost its beautiful, 20-mile long lagoon sitting amidst the desert, with pristine, blue-green color flat water in which dolphins are can frequently be seen.

Source: Ocean Vagabond
Dakhla and its lagoon get very constant and reliable winds between April and October. Combined with the lagoon's flat water and sandbanks, this provides a perfect place for beginner, freerider, and freestyler kitesurfers to experiment and progress.
Ocean Vagabond is the most highly-rated and high-end (yet nature-oriented and environment-friendly) kitesurf camp on the lagoon in Dakhla, and is one of the pioneers of kitesurfing in the Moroccan desert. Check out their 4-day and 7-day kitesurf and yoga package.
On the ocean side of the lagoon, there are also a few good wave spots, such as Oum Labouir and Lassarga, which typically start working when South swells kick in.
A growing number of kite schools/camps adds the final touch to Dakhla's attractiveness. Camps range from grassroots, camping-style type hosting to sophisticated international kite schools that provide luxury services to ever-more demanding kitesurfing tourists.
Wrapping up
In this article, I tried to provide you with an overview of some of the best kitesurfing spots in Morocco. There are obviously a lot more, most of them in areas where tourism and the kiteboarding industry are non-existent even though the conditions are great much of the year.
Kitesurfing is a growing sport among Moroccan residents, which leads to new spots being discovered and ridden. For example, I know of several "newer" kite spots in the Casablanca, Tangier, and Dakhla areas that are starting to get more sessions during the year.
If you plan a trip to Morocco during wind season, allow for some time for wandering off the beaten path and looking for new beaches, flat water, and wave spots . What you'll find will likely stun you!