Your kitesurf harness is arguably the most important piece of equipment you'll need for kitesurfing because it's the one piece you're going to be wearing around your waist and your core for hours during each session.
Your harness is at the receiving end of all the great power generated by your kite and conveyed to you through the kite lines and control bar.
What makes a good kitesurfing harness?
A good harness should strongly support your lower back and prevent back pain after long sessions by dampening the strong pulls from your kite.  On the other hand, it should be flexible enough to mold around your body, without hard stiff parts rubbing against your hip bone and ribs. 
Your harness should also be made with durable material that can withstand prolonged soaking in salt water and constant tension from the kite lines.
From seat harness to waist kitesurf harness
When I started kitesurfing 8 years ago, I first bought a used a Mystic seat harness from the kitesurf school in which I did my initial training.  The harness had already been through quite a few seasons but was still in OK shape aside from a few signs of wear and tear on the outside.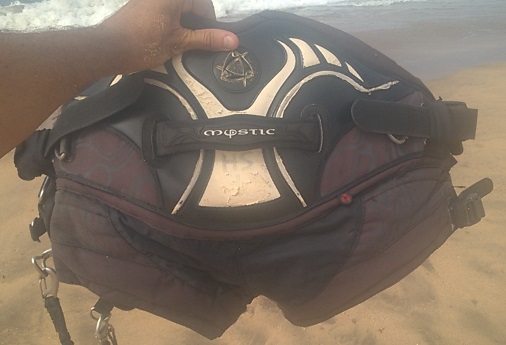 A seat harness is perfect for learning as it wraps around not just your hips and waist but also around your butt and upper legs.  Thus it remains fixed around your mid-body and doesn't move around, giving you complete stability and a snug and secure feel – something you appreciate when you keep getting jammed up off the water by your kite.
If you're still learning and want to secure feel of a seat harness, I recommend a Mystic harness such as this one (Amazon page).  They are indestructible – kitesurf schools use them for a reason.
Some riders, particularly people with lower back issues, choose to continue using a seat harness even after becoming proficient kiteboarders.
In my case, though, as I gained confidence riding upwind, I felt like switching to a waist harness. While a seat harness wears like a pair of shorts with straps around your thighs, a waist harness is like an oversized belt that can move around and up your waist.
This gives you more freedom of movement, allowing you to position your upper body at higher angles with your kite lines.
My kitesurf waist harness recommendation
Throughout my 8-year kitesurfing career, aside from initial beat up seat harness, I only used 2 harnesses, both from Dakine.  These harnesses are so comfortable and durable that I've never felt the need for change.
In fact, I probably would have stuck to my first if the spread bar hadn't been defective (see next section).
My first Dakine harness was the Pyro, a fierce looking, shield-like, green and black piece of equipment that makes you look like an ancient warrior.
The Pyro has a full profile: when I put it on, the height of the back panel spans from the top of my glutes almost all the way up to the base of my ribcage.  I.e. the back panel fully covers my lumbar area up to my first 2 or 3 thoracic vertebrae.
The first time I went riding with it (first time ever with a waist harness) it felt stiff and hard, and actually added to my soreness the day after my session.  The Pyro has a full-spanning white thermo-molded foam (Texon) interior panel designed to provide very strong support for the lower back.
Over time, the interior foam – which I found out includes special memory foam – molded really well around my waist and hips and became much more comfortable, though without getting too soft and losing the support.
The large back coverage and the snug feeling provided by that interior panel gives me a nice feeling of comfort, back support, and safety against power surges in my kite lines!
The Pyro is really heavily padded: besides the interior foam panel, the external panel looks like a thick star war shield, with a bunch of padded molded shapes that are somewhat able to move relative to one other, making the harness super flexy despite its exceptional back support.
Due to the way it's shaped and molded, there is a layer of air trapped between the exterior and interior panels – I can feel it by pressing the panels together and releasing.  This adds even more padding and softness to the overall design.
The "belt" parts of the harness – the parts that wrap around the hips – also has thick padding, preventing my hips from getting bruising (after that initial break-in period).
The Pyro has a very handy knife pocket on one side and key pocket on the other, both of which I use all the time.  I never ride without my line cutter as you never know when your lines may get caught up in something.
I  always make a duplicate of my car key just for unlocking my car door – never hide your car key in your wheels!  A thick small elastic cord comes out of the key pocket, I attach my key to it, push it deep inside the pocket and close it using the small velcro strap.
The Pyro has adjustment straps on both sides of the waist. They're quite hard to tighten by myself, I usually ask someone to help me out.  Once they're adjusted though, they never slide out, which is very important when you're riding.  I set them up once and forget about them.
When I look at other kitesurfers, my Pyro sometimes looks kind of big – smaller harnesses look cool! But after trying a couple of smaller ones from other brands, none of them gave me nearly the amount of comfort and back support I get with the Pyro.
The Pyro is very durable: after a couple of years using it it hardly shows any sign of wear and tear other than the velcro front straps and a tiny cut in the interior lycra fabric below the molded foam – due to the permanent rubbing against my back.
You can check out the price for the new Pyro on Amazon.  It's certainly not the cheapest harness out there but I think it's well worth the investment, particularly as a newer kiteboarder, as it lasts for years and gets increasingly comfortable over time.
My alternative waist harness recommendation
Soon after buying my Pyro, the spreader bar snapped on one side while I was in the water.  I had to body drag back to the shore with my lines pulling on the side of the spreader bar that was still holding on to the harness.
I was quite upset about it and contacted Dakine's customer service.  To my surprise, not only did they immediately offer to replace the spreader bar, they actually sent me a brand new complete harness.  That's how I got my hands on the Dakine Renegade.
At first, I planned to just sell the Renegade as new since I wasn't willing to switch away from my Pyro.  But after a while of staring at the really cool design on it, I decided to give it a try.  Ever since, the Renegade has become my single favorite harness.
A more lightweight feel
The Renegade feels more lightweight than the Pyro.  Its outer shell has a smooth surface and doesn't have the thermo-molded padded shapes the Pyro has. If you press the back panel between your thumb and first finger, you won't feel an air gap between the exterior and interior panels – it just feels like one panel.
So the Renegade seems to have much less padding than the Pyro, except on the narrower "belt" sides which seem similar.  Another notable difference is in the overall curvature of the harness: the Renegade seems to be "pre-curved" in a C-shape for wrapping around your body, whereas the Pyro has a flatter shape when not worn.
Another thing is the white thermo-molded memory foam interior pane on the Renegade is only about 4″ wide around my spine, with the rest of the interior surface being regular padding and fabric.
In contrast, the Pyro's interior side, including the side belt parts, is fully covered with those shaped molded foam pads for solid back support.  Initially wearing the Renegade, I didn't get that stiffness I had with the Pyro until I broke it in.
One last major difference I find between the two is the "camber" in the Renegade's back pane, designed better fit your lumbar curve, something the Pyro doesn't have.
Great riding experience
So how do these differences impact the riding experience? Before trying the Renegade, I had dismissed it as being more basic and offering much less support – that's the reason I wanted to sell it back new without even trying it.
After trying it, though, I found it to provide a similar level of fit and comfort to the Pyro.  I appreciate the light weight and the pre-shaped overall curvature. The interior padding with the molded foam in the middle gives me sufficient lower back support.
I get the same quality and durability – I've been using the renegade for several years now, it has even less wear and tear than my Pyro.  It has the same key and knife pockets, and the exact same secure tightening strap system on the sides.
Overall, it feels less bulky but as comfortable and snug, even though it seems to have less built-in padding and back support.
Note that I started using the Renegade as a more experienced kitesurfer with better mastery of my kite and a lesser need for my harness to help me cope with strong overpowered pulls.  As I made progress I started using smaller kites and flying my kite lower in the window.
The Renegade gives me just the right amount of support and freedom of movement for my needs.
Here are the Amazon links again:   Size M (black) / Size M (black and orange) / Size S, L, XL (black) / Size L (white and yellow)
Here's the Dakine size chart in inches (applies to both Pyro and Renegade) to help you determine the right size for you :
SIZE
X-SMALL
SMALL
MEDIUM
LARGE
X-LARGE
XX-LARGE
WAIST

28-30

"

30-32

"

32-34

"

34-36

"

36-38

"

40-42

"
And here's the equivalent in cm :
SIZE
X-SMALL
SMALL
MEDIUM
LARGE
X-LARGE
XX-LARGE
WAIST

71-76

cm

76-81

cm

81-86

cm

86-91

cm

91-96

cm

96-101

cm
Conclusion
I've been very happy with my Dakine harnesses and never felt the need for another harness in so many years.  Both the Pyro and the Renegade give me exceptional comfort, lower back support, and durability.  Most of my riding buddies have been through a couple of harnesses over that time.
Whether to choose the Pyro or the Renegade is a matter of preference.  I would say the Pyro is good for a less experienced rider because of the incredible amount of padding and back support it has.
The Renegade, on the other hand, immediately feels right if you're a more experienced kitesurfer, you don't even need to break it in initially since it has a much smaller interior foam panel.
With experience, you tend to control your kite's power much better, and so the Renegade may provide just the right amount of support for you, as it does for me.